"The Chinese Farmers' Harvest Festival is really interesting. This is the wisdom of farmers'." said Senna, an international student from Tunisia, when she cutted and threshed rice, saw the dragon dance performance in the countryside of Wucheng for the first time.
On Sept. 25th , Tashi Farmers' Harvest Festival kicked off on the terraces in Wucheng Tashi district. Senna and her friend Sohail Ahmed, from Pakistan, came to the fields of Tashi to participate in the Chinese farmers' Harvest Festival.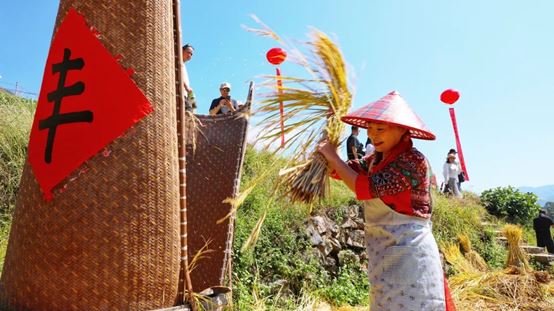 Under the blue sky and white clouds, between the green mountains and clear water, the cascade of terraced fields look golden, the rice fragrance blows everywhere.The villagers were full of joy and busy with the harvest. Senna and her friend experienced the happiness of harvest, began to cut rice with sickles, and sometimes took photos with heavy rice ears in their hands to record the wonderful moment.
"Autumn is the harvest season and we are very happy to share the joy of the harvest with the farmers."Senna said,"China's rural areas are particularly beautiful and varied, and I am deeply fascinated by the beautiful harvest picture."