HangjinQi was once "the place ofriding and shooting, and the place of nomadic life" in the past dynasties.It has bred a unique national culture with unique flavor, antiquity, eleganceand splendor. It is the only living inheritance place of the nationalintangible cultural heritage "GuRu song", and is known as "thehometown of GuRu song in China". "GuRu song", this precious heritageof human culture, has been passed on and developed in HangJinQi.
"GuRu song"("GuRu"means" state "or" government ") embodiesthe unique style of Mongolian court etiquette music in the Yuan dynasty, and isan important part of Ordos culture. "GuRu song" is called the"national anthem" of Genghis Khan period, which is recorded in 《Secret History of Mongolia》 and canbe called the "living fossil" of Mongolia music. After the decline ofthe Mongolian kingship, GuRu song spread among the people and become an ancientfolk music genre, its history is very long, and only about 100 songs areexisting now, it has a strong flavor of ancient Mongolian life, and containsstrong Mongolian classical culture. Its melody is graceful and unique, therhythm is slow and free, the singing is exquisite and unique, the style isnoble,elegant, grand and solemn; The lyrics focus on preach, it mainly praisethe saints, parents, grassland, horse and other beautiful things; it usuallyperforms in a grand and important ceremony.
The ideological content of "GuRusong" is reflected in its preaching, which reflects the values, aesthetictaste and thinking mode formed in social practice and consciousness activitiesat that time. Its preaching content has positive significance forstandardizing, educating, guiding and inspiring people. Its value is not onlyreflected in musicology, literature, art and linguistics, but also has highvalue in anthropology, history, ethnology and folklore, which is the essence ofhuman civilization and the treasure of excellent national culture.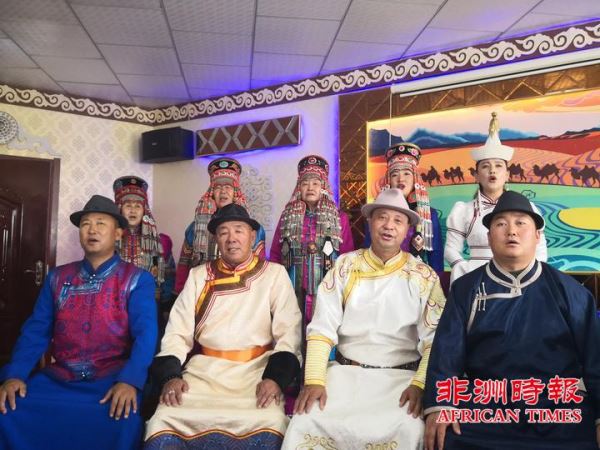 The most unique cultural attribute of"GuRu song" is the living state inheritance. At present, only inHangJinQi people can enjoy the living state existence and vivid expression of"GuRu song". In recent years, the HangJinQi committee and thegovernment attach great importance to the protection and inheritance of GuRusong, because it is a cultural heritage of mankind, and have taken active andeffective measures. They recorded and released the DVD collection of 《HangJin GuRu song》, published and distributed booksabout 《HangJin GuRu song》 in Mongolian and Chinese version,carried out special academic discussions, organized various specialcompetitions, and built the music museum of HangJin GuRu song, a branch of theChinese folk museum. It has strengthened the transmission of GuRu song andgradually formed a stepped inheritance system. At the same time, it hascooperated with music universities all over China and entered the classrooms ofvarious professional institutions of higher learning institution. Through aseries of effective measures, the foundation for the protection and inheritanceof "GuRu song" has been consolidated. "GuRu song" arttroupe has won the MaLan Flower gold medal in the National Middle-aged ChorusContest,and the silver medal in "To mark the 80th anniversary of theLong March, celebrate the 30th anniversary of the establishment, step into thehigh art civilization of chorus association inside the national grand theatrehall " hold in national grand theatre, it also staged the "GuRu song"special performance concert in the Chinese Academy of Music's nationalpronunciation hall. In 2019, as a representative project of national intangiblecultural heritage, it won the second prize in the first Asian folk customchampionship (in Ulan Bator, Mongolia) and qualified to participate in theworld folk custom championship. Recently, It will go to the republic ofBulgaria to show its ancient charm to the whole world.
"GuRu song" in the longriver of history, it never stop to develop and sing, showing the ancient verveof with its unique rhythm, carrying the mission given by history...